01 Jun

Auto Insurance Quoting System
Comparing Auto Insurance Quotes
Choosing the correct auto insurance policy can be as frustrating as it is perplexing. How can one be sure they are getting the best price that is suitable for their needs? Especially when you consider the complicated jargon and unpredictable pricing options.
Car insurance may be purchased directly from an insurance agent or from a third-party broker. When deciding on coverage forms and amounts, consider how much and where you drive, how much your car is worth, and how much you'd be able to pay out of pocket if it were involved in an accident. Until you purchase insurance, compare quotes from several carriers, taking into account third-party scores, coverage choices, and price. Your auto insurance policy starts with you, your coverage requirements, and a single number.
What is an Auto Insurance Quote?
Before you make a purchase decision, auto insurance providers must provide you with an estimate of how much they will bill you for coverage.
Insurance premiums represent the risk. Quote amounts differ depending on the perceived level of risk that a prospective policyholder poses to an insurance company. Since premiums are underwritten by the insurance provider that issues them, the company does not want to take on too much financial risk.
You make a monthly payment to an insurance provider (your monthly premium). If you get into debt in the future, the company will use some of the money to help you cover your expenses.
So, why do insurance quotes have to be different for different individuals and companies? Since insurance isn't a one-size-fits-all solution. Your auto insurance quote is an estimation of how likely it is that you will need coverage.
Auto Insurance Coverage Options
A regular policy includes the following forms of auto insurance coverage options.
Liability Coverage
Liability insurance protects you from physical harm and property damage caused by an accident in which you are at fault. It is your responsibility (along with your insurance company) to compensate so that the non-at-fault driver and/or their passengers do not incur significant financial damage.
Liability-only auto insurance quotes would only have the state's bare minimum of liability coverage: personal injury liability and property damage liability.
If you choose state minimum auto insurance, you can receive the bare minimum of liability coverage permitted by law in your state. That always means you'll get the best quotes available, but the bare minimum of insurance coverage. Liability insurance alone cannot have adequate compensation for any losses or injuries sustained because of an accident, regardless of fault.
Full Coverage
The common term for auto insurance that requires liability, comprehensive, and accident coverage is "full coverage car insurance." This is a more secure auto policy that covers a wider variety of circumstances in which you can need insurance to offset the costs of fixing your vehicle.
Comprehensive Coverage
If you opt to get comprehensive coverage—which we strongly urge you to do—the premium would account for roughly half or more of your total quote. Comprehensive coverage is usually the most expensive part of your quote. Comprehensive coverage ensures that the vehicle is protected in the event of a severe weather event. Animal accidents, vandalism, and theft are also covered.
Collision Coverage
Collision insurance pays out damages resulting from a collision, regardless of fault. If you are involved in a car accident, you and your vehicle will not be protected unless you have crash insurance. This coverage includes collisions with other vehicles and stationary objects, as well as pothole damage. Adding collision coverage will boost the cost of your quote.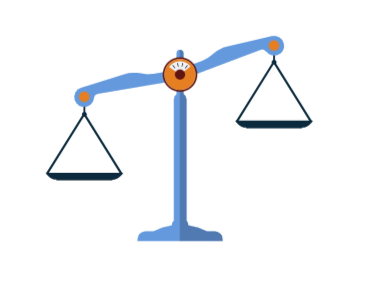 Factors that Influence Auto Insurance Quotes
Location
Your car insurance premiums are influenced by where you live because of geographically relative variables such as population density, crime rates, and weather conditions, many insurance providers place a high value on where you live and drive. Living in a high-crime area or in a hurricane-prone area would almost certainly result in higher auto insurance premiums. Insurance providers expect that your vehicle would cost more to insure because your perceived risk of making a claim is higher.
Your Driving History
Your driving habits are a good predictor of how dangerous you'll be in the future. Insurance providers want to see a clean driving record—drivers who have never made an insurance claim are preferred over those who have had to file even small claims.
Insurers include elements of the driving history such as past collisions, speeding tickets, and DUIs. A previous traffic ticket or a DUI conviction may also increase the car insurance premiums. A minor infringement on your driver's license will increase your monthly bills by 20%.
Car Make and Model
Car insurance providers use the make and model of your vehicle to predict the risk of accidents, robberies, and claims. This vehicle details would also assess the purchase price, the total cost of maintenance, and the results of safety tests – all of which might be considered while purchasing auto insurance.
Who You Are
Are you a landlord or a renter? Do you pay your bills on time? Insurance providers will take your age, gender, marital status, and credit score into account when calculating your quote. Read on to find out how each major insurance provider normally weighs these factors.
Homeowners: Individuals who rent their homes pay higher car insurance rates than those who own them. Drivers who rent their homes pay up to 47 percent more for auto insurance than their homeowner counterparts for the same coverage.
Marital Status: Married people also have lower auto insurance premiums than single people, even those who are divorced or widowed, since they are involved in fewer car accidents. On average, car insurance quotes for married drivers were around $14 lower than those for single drivers.
Age: In every state, teen drivers have the highest auto insurance rates of any age group. Fortunately, insurance costs less as you get older and gain more driving experience. Auto insurance premiums can fluctuate dramatically over time: quotes appear to fall precipitously for drivers after their teen years and then begin to rise again as they enter elder adulthood.
Level of Coverage
The cost of state minimum liability insurance is less than the cost of the same liability limits in a maximum coverage policy. Furthermore, the higher your risk coverage levels, the more you will be expecting an insurance provider to pay out if you make a lawsuit.
Deductibles
You get to choose how much money you'll have to spend before the insurance policy kicks off on any non-liability coverage. This fixed sum is referred to as a deductible. The higher the deductibles, the lower your monthly premium, and vice versa. Allow your financial condition to inform how much you want to pay for an insurance policy, how much you can pay, and how much you're willing to "risk" by opting out of sufficient coverage.
Comparing Auto Insurance Quotes
Auto Insurance Quotes – Full Coverage vs. State Minimum Liability Coverage
Simply put, the more insurance coverage you desire, the more money you will have to spend. Full coverage vs. liability-only coverage vs. state-mandated minimum liability coverage
The term "state minimum" refers to the absolute bare minimum of coverage that a driver in a given state is required to have. It just provides the most basic levels of liability insurance, which means no personal security.
Compare the average monthly payment for a state minimum driver to the average monthly payment for a driver who chooses:
$50,000 in bodily injury liability for one person injured in an accident
$100,000 in bodily injury liability for all injuries suffered in one accident, and
$50,000 in property damage liability for all property damage caused in an accident
Then, calculate how much adding comprehensive and crash coverage, each with a $1,000 deductible, would increase the average premium.
| | |
| --- | --- |
| Coverage Type | Average Monthly Premium |
| State Minimum Liability Only | $164 |
| 50/100/50 Liability Only | $177 |
| 50/100/50 + $1,000 Comprehensive/Collision | $329 |
Costs of Car Insurance Coverage Levels Vary by Company
Insurance premiums are not always made together. Your final premium will vary depending on the amount of coverage you choose, but the dollar amount you end up paying will be calculated by the rating algorithms of your individual insurers.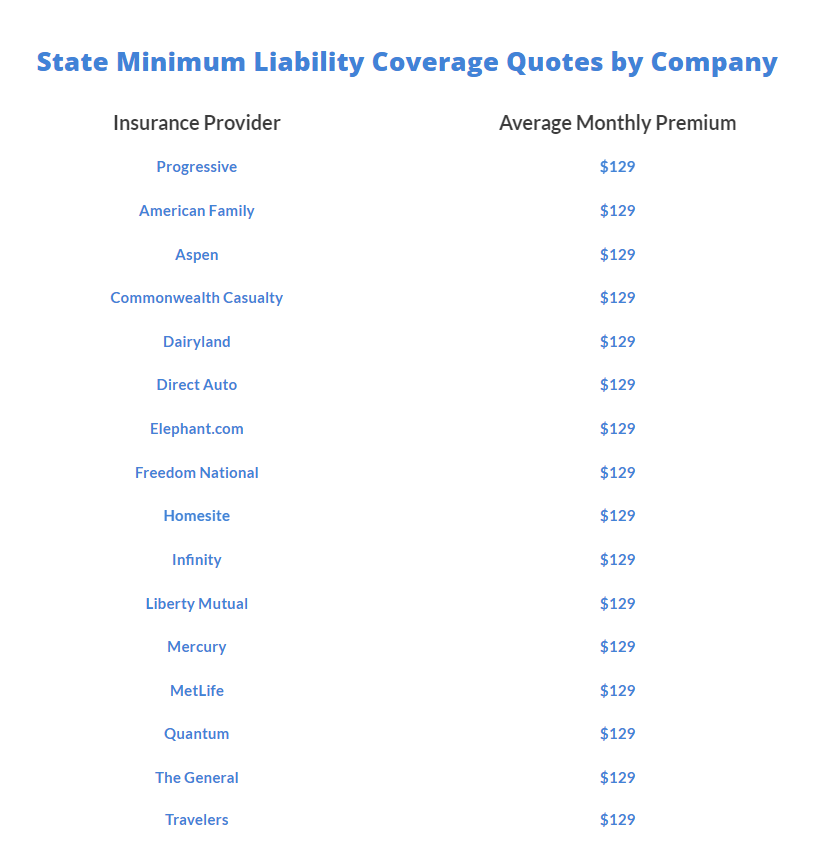 Slightly more coverage than the State required minimum is a 50/100/50 Liability only plan.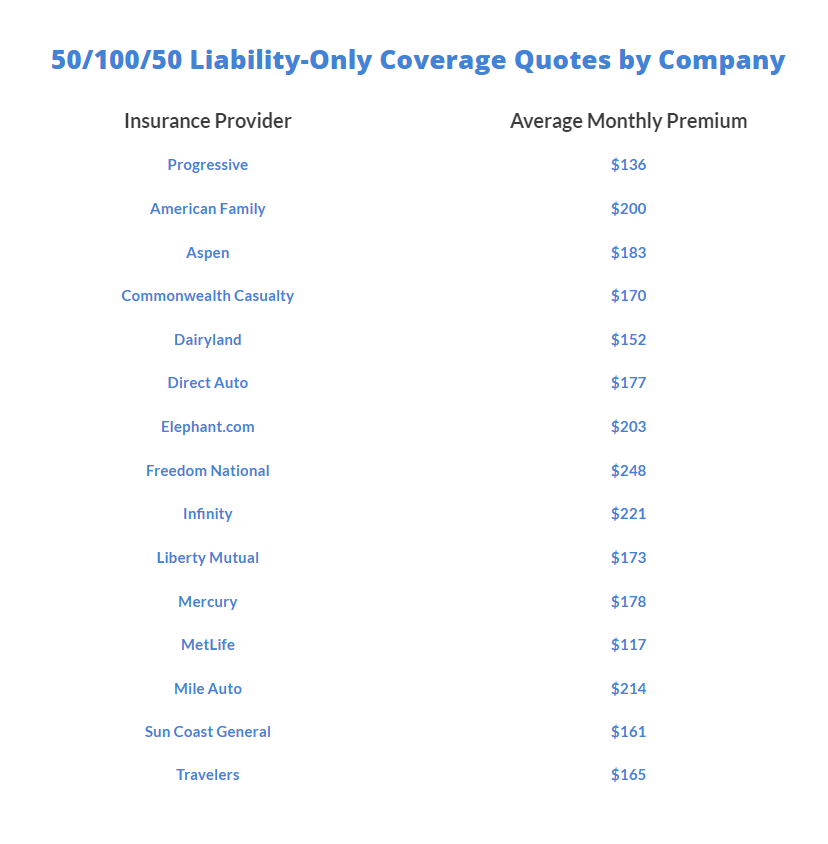 Looking into a slightly more expensive policy but gives you full coverage!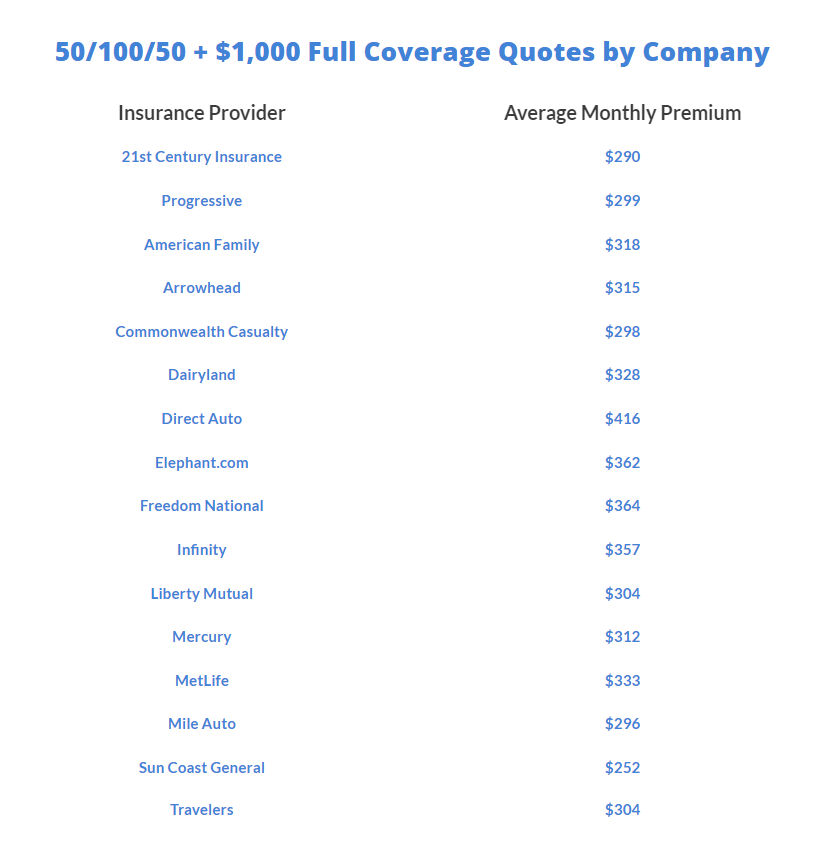 The math is simple: the more coverage you apply to your hypothetical car insurance policy, the higher your car insurance quote would be. This is valid with almost all auto insurance providers.
Auto Insurance Quotes by Credit Score
Unfortunately, it is legal in several states to discriminate against drivers based on their credit score.
| | |
| --- | --- |
| Credit Score | Average Monthly Premium |
| Excellent | $233 |
| Good | $261 |
| Average | $305 |
| Poor | $379 |
Auto Insurance Quotes by Gender
On average, there is a "male penalty" in automobile insurance. Male-identified drivers incur marginally higher costs than female-identified drivers.
| | |
| --- | --- |
| Gender | Average Monthly Premium |
| Male | $245 |
| Female | $236 |
Auto Insurance Quotes by Age
| | |
| --- | --- |
| Age | Average Monthly Premium |
| Under 40 | $263 |
| Over 40 | $214 |
Your auto insurance premiums will typically decline as you "phase out" of riskier driving habits. Under-40 safe drivers: keep in mind that after years of accident-free driving, you'll be eligible for lower and lower rates.
Auto Insurance Quotes Based on Marital Status
Married drivers, on average, pay marginally less for auto insurance than single drivers. Why is this so? Consider the other correlated factors: higher credit ratings, secure jobs, and larger families, all of which may result in significant discounts.
| | |
| --- | --- |
| Marital Status | Average Monthly Premium |
| Single | $264 |
| Married | $245 |
Auto Insurance Quotes – Safe Drivers vs. One At-Fault Accident
| | |
| --- | --- |
| Violation Type | Average Monthly Premium |
| No Prior Violations | $232 |
| One Not-At-Fault Accident | $263 |
| One At-Fault Accident | $285 |
Auto Insurance Quotes – Old vs. New Cars
Some insurance providers tend to prefer coverage of older vehicles because they would not need higher part-replacement costs in the event of an accident. However, some insurance providers actually quote lower rates on newer cars—perhaps because they don't want to risk insuring vehicles that lack modern safety equipment.
| | |
| --- | --- |
| Age Group | Average Monthly Premium |
| Under 5 Years Old / Over Years Old | $332 / $257 |
| Under 20 Years Old / Over 20 Years Old | $290 / $195 |
Each insurance company has different policies or guidelines for insuring older or newer vehicles, which is why comparing quotes from various insurers is critical.
What You Will Need to Do Before Buying Car Insurance
Organize Your Information: Before purchasing a policy, you must know the make, model, and VIN number of each vehicle you want to insure, as well as the full names, birthdays, and driver's license numbers of all drivers listed on the policy.
Understand Your State's Car Insurance Requirements: Check your state's auto insurance provisions, but bear in mind that most drivers need much more coverage than the state minimums. These can only be used as a starting point, not as a shopping guide.
Understand the different types of liability coverage: Liability coverage covers for any harm or injury you suffer while driving. Although hundreds of thousands of dollars in compensation can seem excessive, keep in mind that repair costs, medical expenses, and legal fees will quickly add up after an accident.
Consider the Additional Coverage Options and Add-ons: Comprehensive and crash coverage compensate for damage to the car and are appropriate for the majority of drivers. Consider if you want to add additional coverage to your policy, such as roadside assistance or new vehicle repair coverage.
Compare quotes online: Obtaining quotes from various auto insurance providers is a simple procedure, but you can compare more than just price. Independent reports will also assist you in determining whether or not you are receiving adequate coverage. Find out more when comparing auto insurance quotes.
Choose a policy: If you've decided on a policy, you can purchase it and have it take effect as soon as you need it, whether that's a month or a day.
Cancel your previous insurance: Wait until you've bought a new policy before canceling the old one, and make sure they begin and end on the same day to avoid a coverage gap.